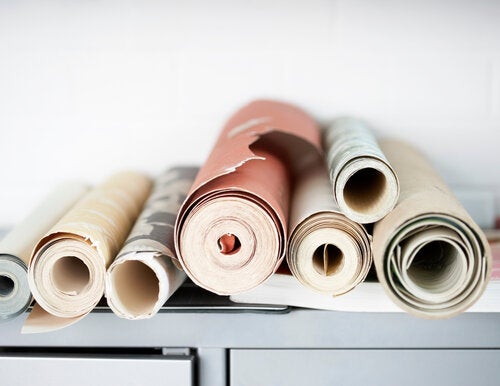 When you think of wallpaper, you likely picture rolls of material that are plastered or glued in place. Once the wallpaper is up on the walls, that's pretty much it; while wallpaper can be removed, the process usually isn't very quick or easy. If you want the look of wallpaper without the hassle, however, there is another option: peel and stick wallpaper. If you weren't aware that this was available, it might be worth looking into.
What Is Peel and Stick Wallpaper?
Similar to some other wall decorations, peel and stick wallpaper is a vinyl applicant that has its own adhesive on one side. A protective paper backing covers the adhesive and is peeled off before application, allowing it to be placed without the need for glue or other messy adhesives. The adhesive on the back of peel and stick wallpaper is strong enough to hold the wallpaper in place, but not so strong that it can't be removed with ease; when you're ready to take it down you can simply peel it off without having to worry about the wallpaper tearing or causing any sort of damage to the wall surface beneath it.
Peel, Stick and Adjust
As with more traditional wallpaper options, peel and stick wallpapers typically feature repeating designs that are essentially seamless once everything has been installed. The self-adhesive nature of the wallpaper makes it easy to start a wallpaper installation since you can position the first piece more easily than you might with wallpapers that have separate adhesives.
There is another advantage to using this self-stick adhesive as well. Because it's designed to release easily, you can adjust the positioning of the wallpaper with ease during the installation process. This helps to ensure that none of the wallpaper is crooked or out of alignment, since you can correct any problems as they occur without having to reapply adhesive or worry about damaging the paper.
Residue-Free Removal
One big advantage that peel and stick wallpaper has over more traditional wall coverings is that you can remove it and replace it whenever you need to. The vinyl material that peel and stick wallpaper is made from is harder than paper, so not only is it less likely to be damaged in day-to-day life but it's also much less likely to tear during removal. The adhesive on the wallpaper leaves no residue behind and isn't going to peel off paint or other surface details. While peel and stick wallpaper typically isn't designed for reuse after removal, you can remove one peel and stick design and replace it with a different design, or even more traditional wallpaper, without any issue.
Multiple Surface Options
Peel and stick wallpaper goes well on walls, but it can also be applied to other surfaces as well. The main requirement for application is a clean, dry surface without texture. Your walls should be painted with at least a base coat, but the paint shouldn't have any texturing agents added. Surfaces with non-stick elements added (such as non-stick paint) or residues need to be cleaned or painted before application as well. Peel and stick wallpaper can be added to drywall, wood or any other surface that either meets its requirements or can be painted to provide the clean, smooth surface that the wallpaper needs for adhesion.