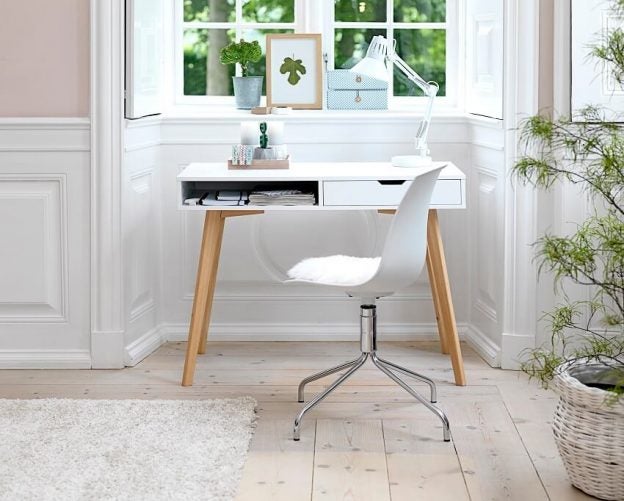 The struggle of the way-too-small home office: a space that needs to be functional often doubling as a guest room and the holding pen for all the random stuff you couldn't find a home for elsewhere. And did we mention these rooms are often tiny? You spend many of your waking hours in this small, cramped place. So, how can you figuratively supersize one of the hardest-working and smallest rooms in your home?
1. Pick the right-sized furniture
One of the worst home office fails? Furniture that simply doesn't fit! Just because you want a large work surface (who doesn't?), it doesn't mean you want to overwhelm your space with a massive CEO-style desk. Start with the right-sized desk, and orbit other furnishings around it. There isn't a formula for size; the more compact you can go, the better. The small-home mecca otherwise known as Ikea offers countless affordable desk options. Take measurements of your room before you shop, and don't forget to account for other furniture that needs to go in the tight space. And maybe factor in a bit of walking space, too. Find a desk that has ample storage and just enough surface space for your computer. If you primarily use a laptop, you can get away with a small laptop desk for tight spaces. For bigger devices, consider a storage-rich desk that's both stylish and sturdy.
When it comes to your chair, you want comfort, but you don't need the gargantuan seat on wheels that you'd see in an office building. Pro tip: Go for a stationary chair with style. Standard dining chairs work well because they're smaller than most office chairs, but they have high backs, so you don't have to worry about being down too low. Dining chairs are a lot more attractive than office chairs, and they just blend in better.

2. Find a place for everything
On websites, floating, open shelves look amazing. Know why? Because they're styled for photos, not living. They probably hold about half the stuff you really need. Your pile of crumpled and mismatched paper? It's not nearly as eye-pleasing as the perfectly stacked piles you see in design books. Here's a good way to leverage wall space: Use it to hang file holders. You'll find plenty of options at The Container Store or any office supply retailer. Every item should have a dedicated place that's not your work surface or the floor.
If you can squeeze another piece of furniture in your room, Petty suggests a closed cabinet. A stylish armoire could be a nice touch. Use bins to store your office wares inside. Purchase cord organizers and tuck away that laptop when you're offline to make everything look seamless. If you must leave things out, then do it in style.
One of the easiest and most cost-effective ways to make your work ambiance more Zen is through color. You can paint, but a hued wallpaper looks great, too. The key, productivity-wise: You want a design that's inspiring but not distracting.
While overhead lighting is the best lighting for task-orientated work, a desk lamp can add a great decorative detail. Don't opt for one that looks too utilitarian. With practically no effort, you can find options that are stylish, attractive, and affordable (the trifecta!).

One thing to skip: rugs. Chairs are harder to move on rugs and placing them under a desk ends up cutting the rug off awkwardly.